Collaborate on decks, community chat and more
Published 5 August 2022
Collaborate on decks! And the community chat experiment
Here's a quick update on what we've been building for Traverse in July.
Collaborate on decks and maps
The collaboration feature is now available for everyone. Invite your friends or colleagues by email to work together on a topic.
Map out a subject together, or divide flashcard creation among your study group!
You can find the email invite field after clicking the "Share" button on top.
Rebalance your reviews
Sometimes you just have too many flashcards to review, and it can be a chore to get through them (especially after coming back from a break).
To allow you to get back into your reviews gradually, we've added a "Rebalance" option, which spreads out your due flashcards over the next days. You can find it in the flashcards overview (Click "See all flashcards" after opening your reviews from the homescreen).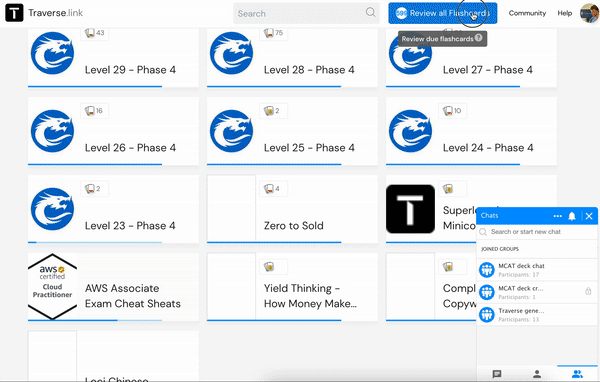 Experiment: Community Chat
For some of you we've enabled a community chat, which you can find in the bottom right. This is a place to talk about how to use Traverse, the best study strategies and specific subjects. You can also give feedback or report errors in existing content. You can chat in any of the groups, or one-on-one with your friends (or with me 🥲).
(P.S. if the community chat doesn't appear for you but you really want to try it, respond to this email to apply for a beta invite)
Your ideas: open mindmap
We often hear stuff like "The mindmap idea is great, but I wish I could add images/rearrange nodes/have nodes in multiple places/…".
I'd love to brainstorm with you all about what would make a great mindmap for learning any subject.
Submit your ideas for the mindmap by leaving a comment here: https://roadmap.traverse.link/traverselink?card=62c81f1236b9c6002aa4f527
Head over to Traverse.link to take the new features for a spin.
And if there's anything you'd like to see in the app, submit your idea at roadmap.traverse.link
---
Dominic Zijlstra
6x polyglot, ex-spacecraft engineer, and founder of Traverse.link
Share this article: